Toll Road Overweight
Sector Outlook
Government still prioritizes toll road development
It seems Indonesian government will not take down their ambitious plan to continue expanding the toll road network. Based on our check, up until 2019, the total toll road in operation has reached 2,166 km. Noting that, around 1,298 km finished within 2015-2019 period. Following the target of the government, there should be another 2,000 km more up until 2024 since they are aiming to operate 4,817 km in total.
In regard with the location of toll road segment, Java will remain the priority given the attractive investment return. However, in order to reduce the inequality in ex-Java area, government has put its effort to build highway in Sumatera and Kalimantan. More specifically, in Sumatera, from Aceh to Bakaheuni, there will be estimated 2,700 km toll road span; while in Kalimantan, Balikpapan – Samarinda has well connected to support the economy and relocation of capital city.
Exhibit 93: Total toll road in operation (Indonesia)

Source: Various and Ciptadana
Exhibit 94: Trans Sumatera toll road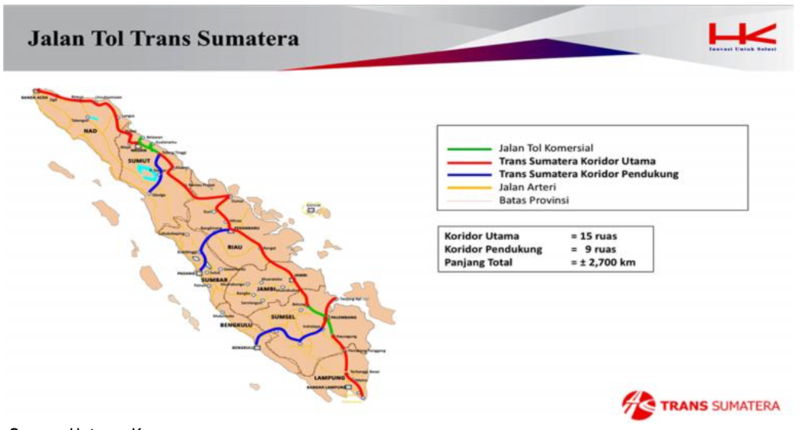 Source: Hutama Karya
Funding options will vary; SWF to invest in highway soon
Required capital to be able to achieve the goal of the government is very huge. The government budget obviously will not be able to cover all, hence the funding gap has to be solved. In last couple years, we have seen some initiatives of toll road operator to fulfil their capex needs like using asset backed securities or limited equity fund (RDPT) instead of conservative debt financing. Another good news came recently whereas Sovereign Wealth Fund (SWF) likely to enter Indonesia and invest it highway projects. Therefore, this can be a good factor to drive toll road development in the coming years.
We see 2020 is a challenging year for constructing new toll road buoyed by slower activities and funding. Nevertheless, it will just a short term set back in our view. When the condition turns to be better, they will expedite toll road development. Going forward, we believe if the connectivity between areas have been connected with good quality of toll road, the multiplier effect is yet to come.
Toll road sector has faster pace of recovery
Back to 2Q20, when the government applied the first large scale social restriction (PSBB), JSMR toll traffic dropped to 50% from normal. After the government ease PSBB, traffic volumes recovered to around 80% from normal. In late August-20, JSMR toll traffic has back to only 8.8% below normal. However, in September-20, DKI Jakarta applied the 2nd PSBB but the condition is less strict compare to the 1st PSBB where the people movement in Jabodetabek was really limited. Noting that, during the 1st week of the 2nd PSBB, the traffic volumes only declined by around 19%. Therefore, we have concluded that toll road sector can become one of the interesting options for the investors given the faster pace of recovery in its toll traffic.
Exhibit 95: Update on toll revenue (March-July-20)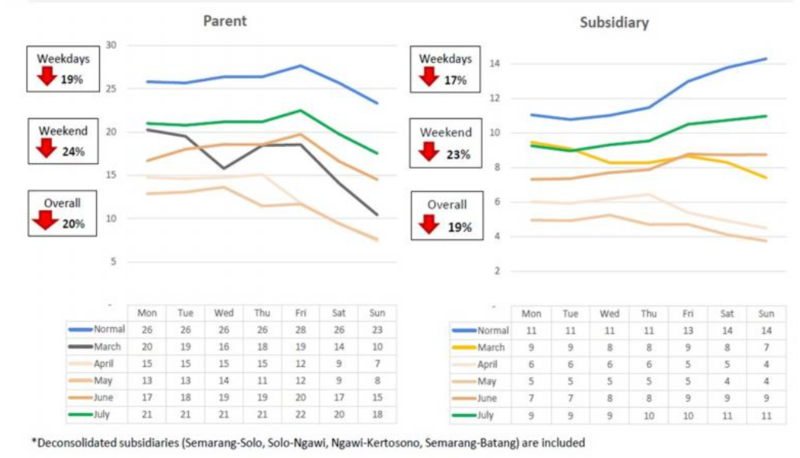 Source: Jasa Marga
Benefit of low interest rate environment for toll operator
Bank Indonesia key policy rate has been trending down within the last 2-year. In June-20, they cut another 25 bps to 4% in order to help the economy amid high uncertainties during Covid-19 pandemic. We have discussed with our Economist, whereas there is room for another interest rate cut given our Indonesian real interest rate which relatively still higher compare to the regional, low inflation, trade surplus and sufficient forex reserves. As such, we deem this as the positive driver for toll road operator and developer which by nature are having high leverage during capex period.
With possibility of further rate cut, JSMR as a company under our coverage is poised to benefit. Blended interest rate may go down as time deposit rate will follow benchmark rate in spite lagging. If JSMR want to raise another debt financing, they will bear lighter burden as well. In addition, following the high negative correlation (around -0.74) between JSMR share prices and 10-year government bond yield (JSMR categorized as a so-called bond proxy), we foresee this can be a catalyst for the share prices to temporary go up.
Exhibit 96: Correlation between share price and 10-year gov bond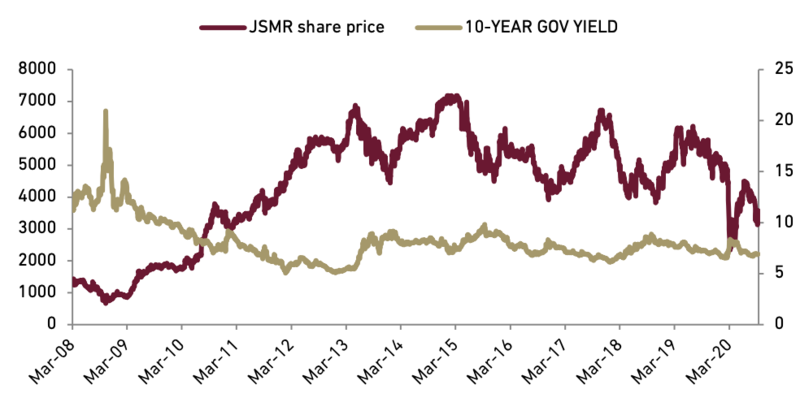 Source: Bloomberg and Ciptadana
Exhibit 97: Toll road development 2020-2024F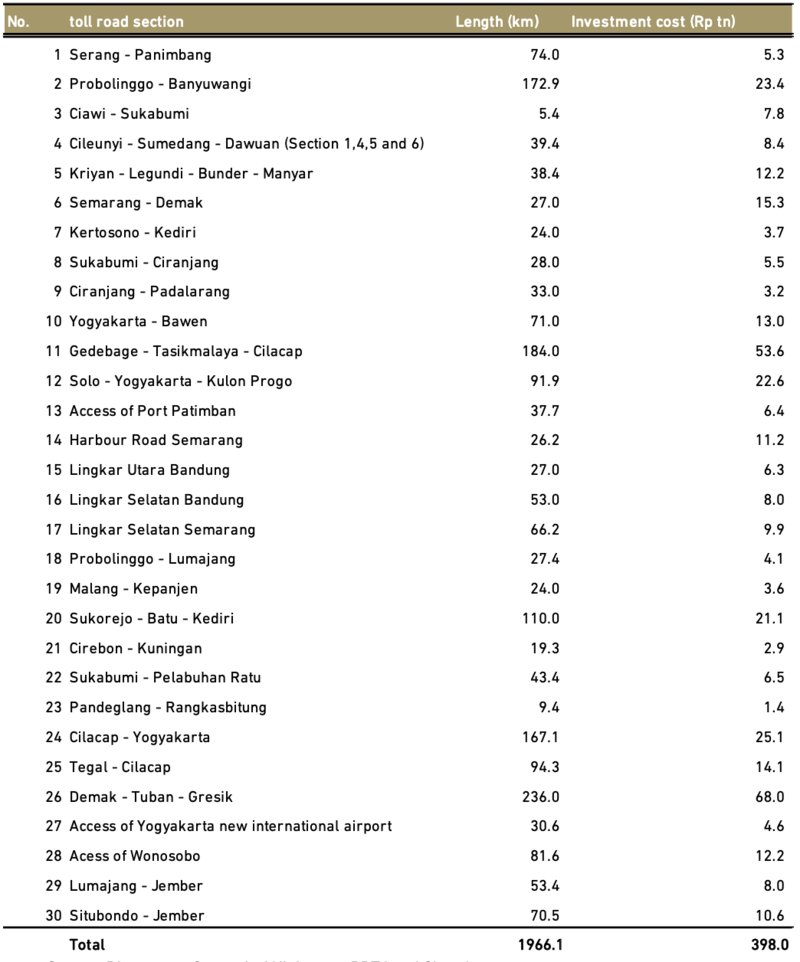 Source: Directorate General of Highways, BPTJ and Ciptadana
Reiterate Overweight call for Indonesian toll road sector
Rapid growth in toll road lengths since 2015 is the evidence about how serious our government in improving the quality of infrastructure. At least until 2024, seeing from the pipeline of concession to be constructed remains promising. We believe some people might concern whether spending huge capital to infrastructure will really bring positive impact on Indonesia economy. We think this is not wrong move given how critical infrastructure to anticipate growth.
On the back of longer toll road in operation, we believe toll road operator will hit higher revenue growth. Commonly, new operating segment can post higher growth compare to matured toll road. However, in the early years of operation, relative new toll road section will bear operating loss. Yet, we think without any additional length of highways, toll road operator and developer will hardly to grow further.
We reiterate Overweight stance on Indonesian toll road. JSMR is the only company under our toll road coverage and we recommend Buy with 2021F TP of Rp4,700. Risk related to our call: below expected traffic volumes, delay in bi-annual tariff adjustment, and difficulties in divesting toll road ownership.
Exhibit 98: Toll road stoc rating and valuation