Plantation Overweight
Sector Outlook
Biodiesel increases amidst pandemic's pressure
In recent years, Indonesia's biodiesel production has increased due to national biodiesel program, financed by the CPO fund to support biodiesel producers. We believe the estimated global CPO prices together with levy collections will be sufficient to maintain B30 scenario over the projection period.
Exhibit 76: Indonesia's biodiesel index price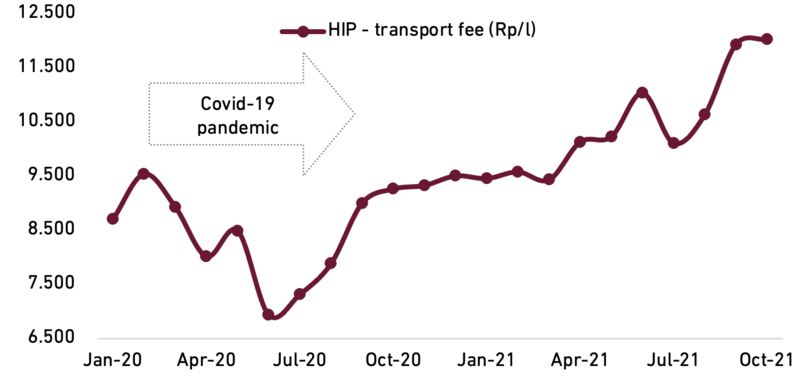 Source : APROBI, Ciptadana Estimates
Based on OECD projection, biodiesel production in Indonesia will increase to 9.7 bn L by 2030 from 8.6 bn L expected in 2021. In view of EU environmental regulation and declining use of diesel in developed countries, exports are projected to remain low. Throughout 2021, the subsidy to biodiesel production was maintained at USD85/ton owing to high CPO and low diesel prices. However, this subsidy should decrease over the outlook period as oil prices are expected to recover.
Pent-up demand could emerge post rally
Edible oil prices are likely to decelerate in the 1H22 as production increases. We assume that CPO prices would stay at average RM4,000/ton in 2022, slightly pull back from current level as we predict global palm oil output could rise by 3.5 mn to 4 mn tons in 2022, accelerating from 1.7 mn ton expected in 2021.
Exhibit 105: Malaysia palm oil statistics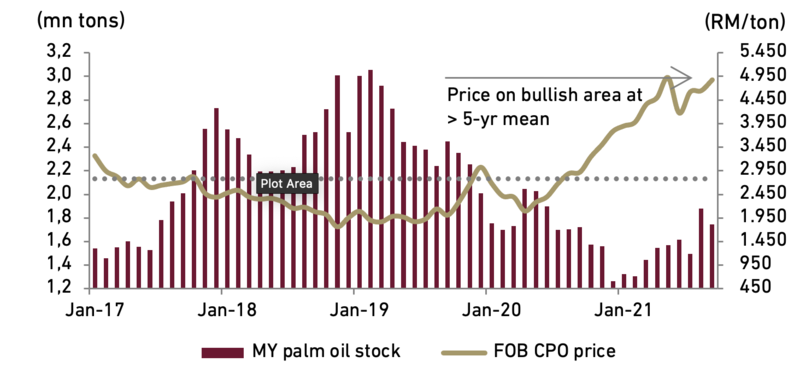 Source : MPOB, Ciptadana Estimates
The price of CPO has jumped nearly 24% YoY by average in 2021, rallying for a second consecutive year as a pandemic-induced labour shortage crimped output in Malaysia. After a rally in edible oil prices squeezed demand, especially in developing countries, pent-up demand could emerge once prices stabilized.
Recent run-up in vegetable oil prices slows
Throughout 2021, the price of soybean oil has continued to rise. However, it is not the only vegetable oil that has been exhibiting higher prices. Cottonseed, canola and corn oil prices also peaked in mid-2021. Meanwhile, oil prices have moderated over the last couple of months as higher prices curtailed soybean oil use in the biofuel and export. Driven largely by expansion for biofuels, we believe that the vegetable oil prices look to maintain at this level in 2022.
Soybean oil price could rise as premium to CPO has narrowed
The forecast of thin stock in soybean this year would have a minimal influence on the demand and price of CPO as the soybean oil premium over palm oil has narrowed down to about USD41/ton in early 2021. Significantly narrower compared to its last 5-year average of USD152/ton. USDA report showed lower estimates for soybean harvest and stockpiles due to adverse weather conditions and US inventory were forecasted to drop to 3.82 mn tons which will cut global inventories to 58.28 mn tons in 2021. The current La Nina weather pattern had also threatened yields and loomed as a major risk to send world soybean stocks-to-use ratio to multi-year lows and prices to record highs.
Exhibit 78: Palm oil price discount to soy oil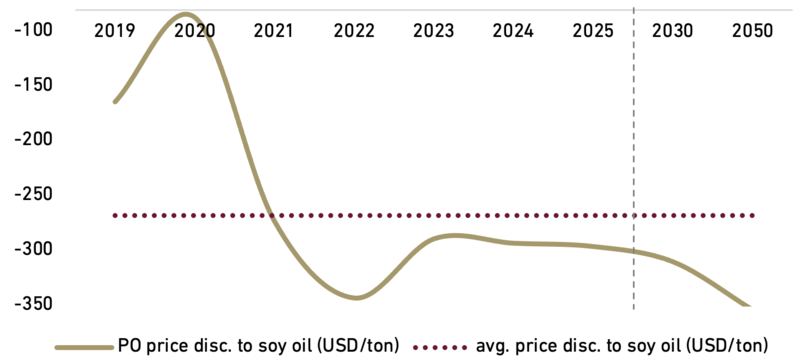 Source : World Bank, Ciptadana Securities
Solid demand in domestic market drives palm oil growth
As for palm oil, Malaysian Palm Oil Board (MPOB) showed that CPO production until end of September 2021 amounted to 14.59 mn tons, reflecting a -8.8% YoY decrease, because of harsh weather in 2019. Domestic consumption partially offset decline in exports which slid -12.0% YoY to 11.24 mn tons as most importer countries battled the pandemic. Indonesian domestic demand, supported by the B30 program also takes part in reducing stock-to-consumption ratio. Moving forward to 2022, we believe that domestic consumption will continue to drive demand which could offset lower exports.
Volatility in palm oil market, however price likely to remain high
In October 2021 Malaysian palm oil futures pulled back from record high, rattled by concerns over tightening regulations on the commodities market in China. Fears that the key buyer China would strengthen regulation on speculative activities in the commodities markets, following news that Beijing signaled it might intervene to cool surging prices of other main commodity, coal. Chinese government is looking at ways to increase coal supply to help bring energy prices down where is Palm oil price has been rising sharply on the back of higher energy prices. Prior to that, CPO price had surged higher on renewed worries over Indonesian production losses, covering in cash markets and persistently bullish energy prices.
Exhibit 79: Indonesian palm oil statistics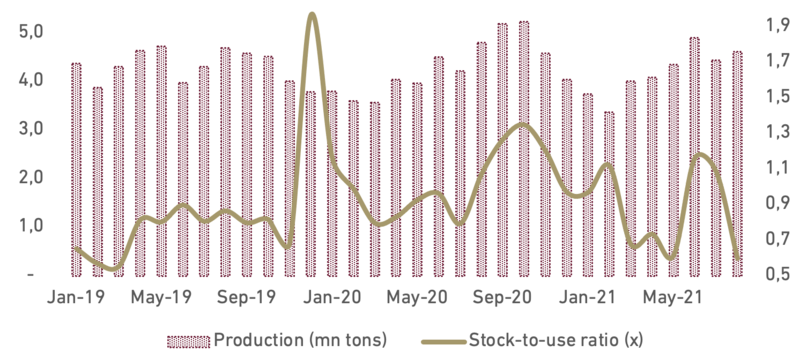 Source : GAPKI, Ciptadana Estimates
In our view, a depressed production outlook and a reduction in import duties at key destination markets such as India and Pakistan would support global palm oil prices to remain at the range of RM3,800 to RM4,200 per ton in 2022. The price of palm oil could piggy back the increasing soybean oil which continue to strengthened towards end of 2022. As we know, palm oil is affected by price movements in related oils as they compete for a share in the global vegetable oils market.
Indonesia towards self-sufficient palm oil industry
As the EU implements policies that banned palm oil for biofuels, citing environmental concerns, many small holder farmers are threatened by the devastating impact. Especially since Covid-19 has further increased economic insecurity in developing countries. Responding to the situation, Indonesian Government is committed to continue developing its downstream palm oil industries, which will later in the future absorb all of the CPO as raw materials to produce various kinds of processed products, such as cosmetic, margarine, biodiesel and other derivative products. The government is preparing all necessary steps needed to develop the palm oil industries-from upstream to downstream, which will then allow Indonesia to stop the export of CPO.
Exhibit 80: Indonesia's palm oil exports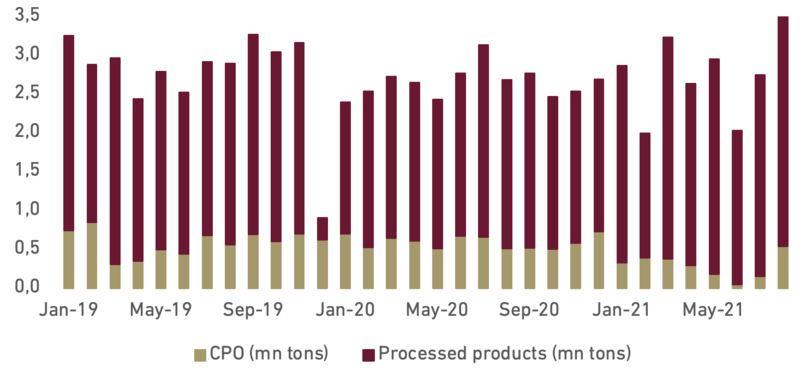 Source : GAPKI, Ciptadana Estimates
Due to limited supply in 2020 and supported by B30 campaign, Indonesia palm oil stocks-to-use ratio has reduced dramatically from 2.0x in January 2020 to only 0.6x by end of August 2021. Indonesia has a clear and understandable reason to stop the CPO export in the future, so that it is not afraid to face lawsuits that might be filed by other countries at the WTO. Indonesia is the first country in the world that blends the diesel fuel with renewable energy source from palm oil at the percentage of 30% (B30). Other countries like Argentina, Brazil and US only produce at mixture of maximum 20%.
Exhibit 81: Indonesian biodiesel statistics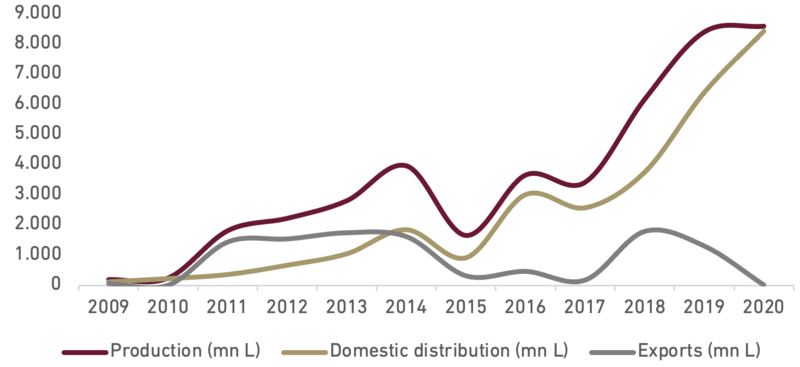 Source : APROBI, Ciptadana Estimates
Top picks: AALI, LSIP, TAPG and TBLA
We maintain OVERWEIGHT on plantation sector with our top picks include AALI, LSIP, TAPG and TBLA. In term of production, AALI and LSIP showed stable FFB yield each year while TAPG's young trees are promising higher yield growth. We also believe TBLA as one of the FAME producers will be benefited from the increasing biodiesel blending program.
Exhibit 82: Plantation stock rating and valuation

​